It was a nice warm afternoon in the East Bay this weekend. I was delighted to see butterflies flying around in my neighbors front yard, which has lots of flowers and catches the afternoon sun. There was the usual multitude of Fiery Skippers. They are very active and playful as they fly around and chase each other.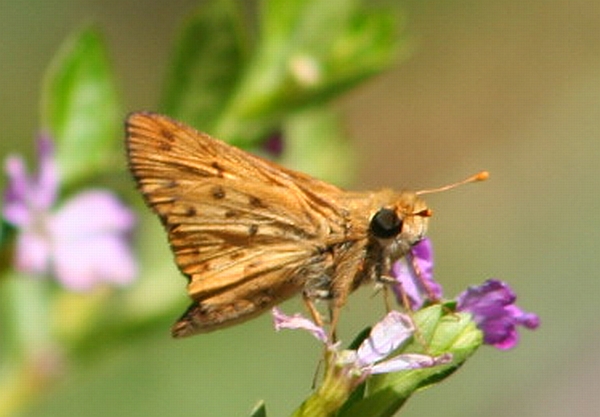 A white butterfly flew by which turned out to be a Cabbage White. Then a bigger, more colorful butterfly caught my attention. It was a Painted Lady. This is the butterfly whose spring migration is in the news every few years. Veritable rivers of these beautiful insects flow through the Bay Area. The last migration we witnessed was in 2009. We were lucky in having one of these rivulets flow through our backyard that spring.
I shot a few photos with the zoom lens. Since it is nearing the end of the season, you can see that this lady was showing signs of aging. As I was looking through the photos later, I noticed something I had missed in the field. There was another lady nearby, a ladybird beetle. It is most likely a Seven-spotted Lady Beetle,  a European species that has become quite common in the US after an accidental introduction. It is useful for controlling aphids.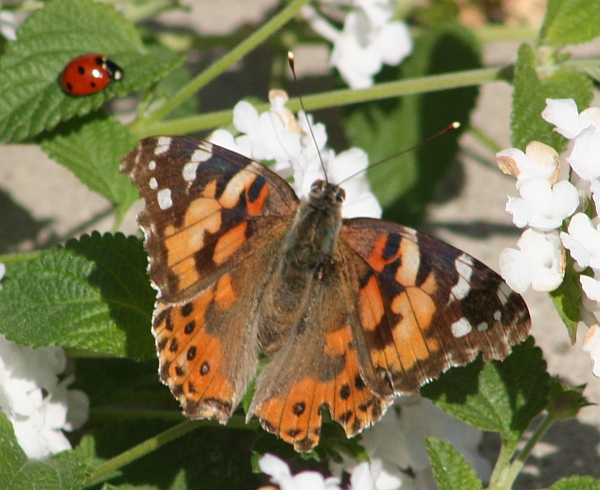 You can read more about butterflies and other insects on sfbaywildlife.info.