It was a nice weekend in early April and Las Trampas Regional Wilderness was beckoning. There was no rain. It turned out to be a good day for lizards and butterflies. And some early wildflowers were already blooming. The most common were the California Buttercups.
Then I started seeing the butterflies. The first one was the Pipevine Swallowtail. This was a lifer for me (I am still a novice butterfly watcher).  I saw several more later but they all proved elusive for photography.
Next was a Margined White – a lifer.  This was identified later by experts on our flickr group and bugguide, based on this photograph. And soon after that I saw a California Ringlet which is a subspecies of the Common Ringlet. This is a fairly common species in grassy, open areas.
Following the Bollinger Creek trail, which runs parallel to the creek, I had tall trees on my left and grassy slopes on my right. The next species to show itself was the Anise Swallowtail which is a really pretty butterfly.
Under a fallen tree branch I found this millepede. If you know its identify, I would love to hear from you.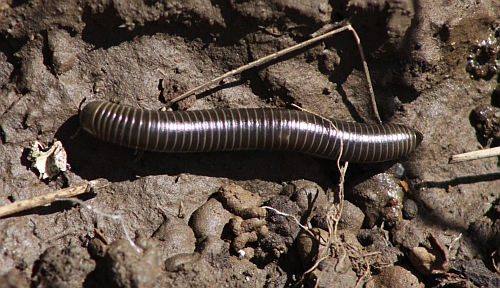 At the point where the trail turns left to cross the creek, I stopped to check out an interesting log. I saw a scurrying movement and then spotted a Western Fence Lizard.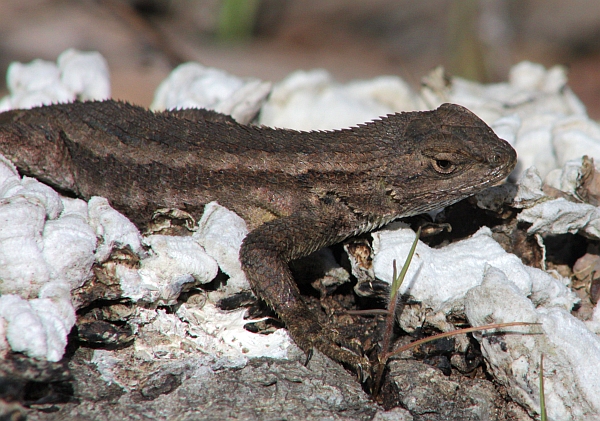 There were several Fence Lizards on the log. To try and get good photographs of the lizards I went a bit close and then stood still for a while. My patience was rewarded by an uncommon sighting. A head poked out of a crack in the wood. Checking it out with my binoculars, I was thrilled to see that it was a Western Skink.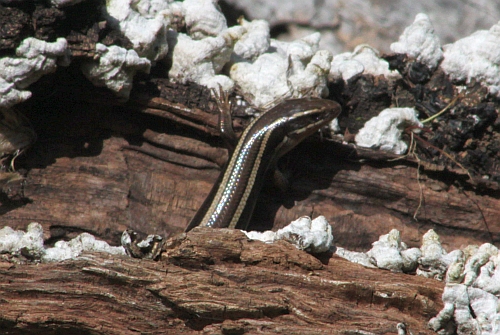 Later I was able to see its blue tail during the few glimpses I got while it foraged under the fallen log and the rotting debri around it. I also saw another skink which had lost its tail. Once before we had a great sighting of a skink at Las Trampas. Spring is a wonderful time to be out on the trail – go out and see what lucky sightings you might get!