The recent rains made for a nice surprise on my hike last weekend. I went to Pleasanton Ridge in the afternoon. It was refreshing to see everything turning green after the hot, dry days of summer. Soon I came across my first California Newt as it was crossing the trail. I find their determined plodding quite admirable. Slowly but surely they keep moving towards their distant destinations driven by the primeval urge to create offspring.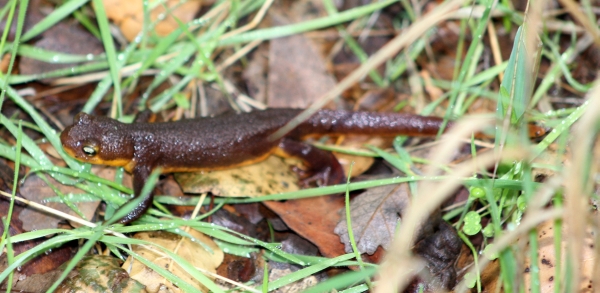 The California Newt – scientific name Taricha torosa – belongs to the salamander group of amphibians. It is endemic to California. It is found along the coastal ranges and there is an isolated population in the southern Sierra.
The emergence of the newts is an annual event triggered by the rainy season. Most of them spend the dry season in moist habitats – under logs and rocks or inside burrows and crevices. From November/December – depending on the rains – they start moving towards their breeding sites in ponds and creeks. Some individuals spend the entire year in permanent bodies of water. We have seen them in Waddell Creek at Rancho Del Oso and in Horseshoe Lake at Skyline Ridge Open Space.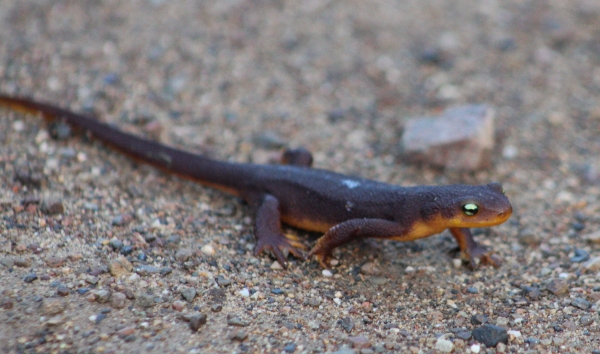 Newts secrete a strong neurotoxin (tetrodotoxin) from their skin. It can can cause death in many animals, including humans, if eaten in sufficient quantity. The toxin can also enter through a mucous membrane or a cut in the skin. So be very careful if you ever handle a newt. Interestingly enough, some Gartersnakes have developed an immunity to the toxin and are known to prey on newts. You can see a fantastic photo of such predation taken in Henry Coe State Park.
I saw several more newts along the path – a total of 9 in a little over 2 hours. The bigger ones were around 15-20 cms (6-7.5 inches) in length. A group of Acorn Woodpeckers with their amusing antics provided some variety in the wildlife viewing.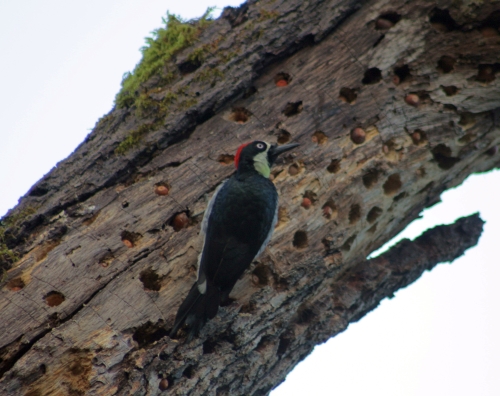 As I neared the parking lot at the end of the hike, I saw a young man on the trail ahead of me. Suddenly I saw him bend down and pick something up from the ground. It was a newt from the trail. He set it down carefully, away from the trail. As I caught up with him, he explained that he was saving the newts from being accidentally trampled. He was not a card-carrying wildlife enthusiast but he had an empathy for animal life. By the way, he was aware of their toxicity and planned to wash his hands after the hike. His kind actions served as a nice ending to a nice outing.
A lot of the newt information was gleaned from Gary Nafis' excellent site californiaherps.com. You can find out more about amphibians of the Bay Area on our amphibians page.  Here are earlier posts about salamanders on Pleasanton Ridge and South Park Drive in Tilden Park.