This is an account of an afternoon hike in mid-February, on the Eastern slopes of Highland Ridge, in Morgan Territory Regional Preserve. The starting point was the intersection of Morgan Territory Road and Highland Ridge Trail. In the very first section I came across a murder scene. A little scrutiny revealed the identity of the victim. You can see the evidence for yourself. The colorful feathers had me puzzled for a bit.
I saw a few small flocks of Band-tailed Pigeons. Some of them were feeding in a tree along the trail and they took off at my approach. The day was just warm enough to have tempted a Western Fence Lizard to spend some time on a sunny rock. After trudging uphill for a while I crested the ridge and got my best sighting of the day.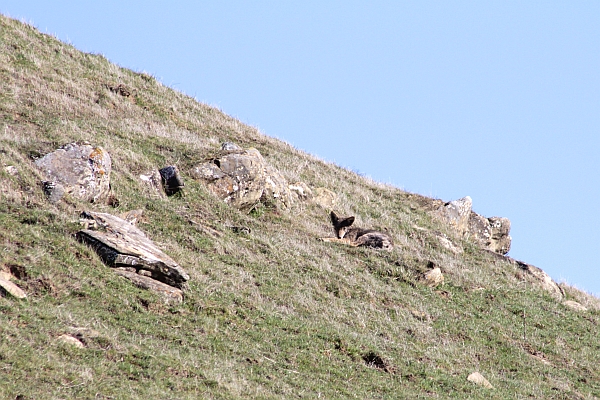 The Coyote seemed to be quite nonchalant as he rested high up on the hillside. He just lay there and watched me from afar as I checked him out with my binoculars. Next I come across this big, empty metal cage. It is used for capturing Wild Pigs – feral animals that cause a lot of damage to the environment. They will root, tear, trample, and dig as they forage. Their population in California has been exploding and they have spread throughout the state. A KQED science video about the wild pig problem in California is embedded at the end of this article.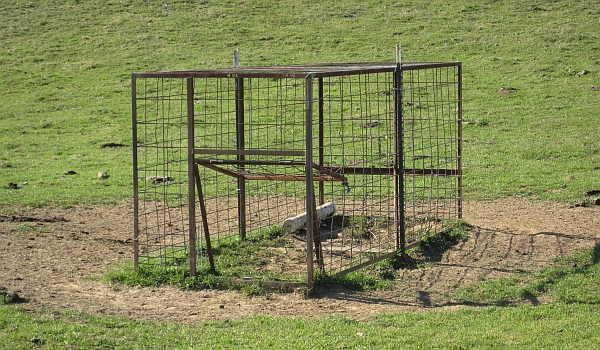 The views in the high country were fantastic. Wave after wave of hills were stretching in almost every direction. And the majestic presence of Mount Diablo was felt all the time.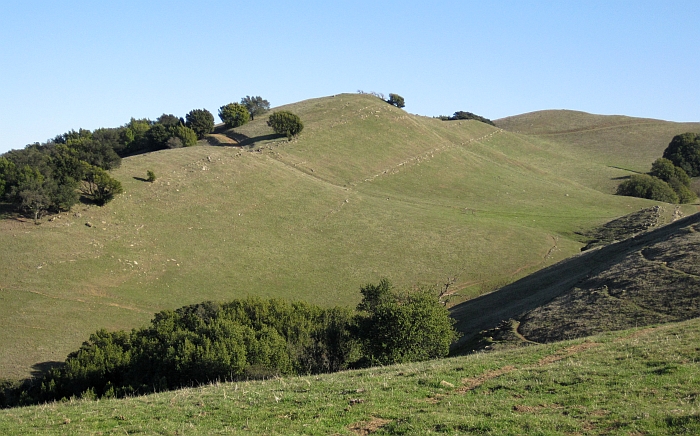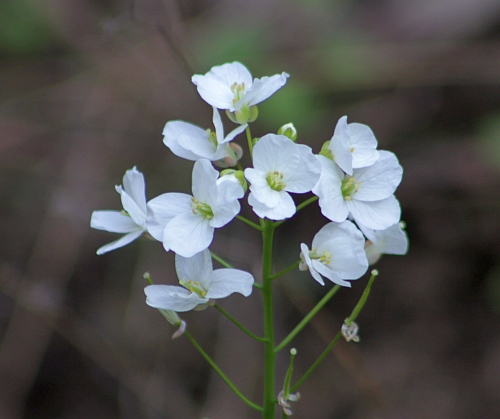 After walking along the ridge for about half a mile, I started descending via Raven Trail. Then I traversed the hillside using Fox Trail to connect with another section of Raven Trail.
All along this section I saw these lovely white flowers. They were Milkmaids – Cardamine californica – one of the first flowers to bloom each year. They seemed to prefer the shadier portions of the hillside.
A nice surprise was the sighting of a Varied Thrush, an uncommon winter visitor to the Bay area.
From further down the hillside, I started hearing the loud chorus of frogs. Soon I came upon the breeding pond and saw several males calling vigorously and pursuing females. These were Pacific Chorus Frogs – Pseudacris sierra (also called Sierran Treefrog; scientists have been messing around with the name of this species). I managed to capture some sound and you can hear the chorus for yourself. This is the most common frog species you are likely to hear in the Bay area.
For other trip reports from Morgan Territory Regional Preserve see Dragonflies, Amphibians at Morgan Territory, Aug. 2010 and Field Trip to Morgan Territory, Aug. 2009